WEIGHT LOSS CHALLENGE
A weight loss competition that allows members to challenge themselves and train when it is convenient for them with flexible training times. You create your workout  by attending sessions that work with your schedule.
If you are looking for a program where you can still train as a group but continue  working towards your own personal goals, this program is for you! Like all of our programs, you will create long lasting friendships and gain knowledge from our experienced certified Personal Trainers.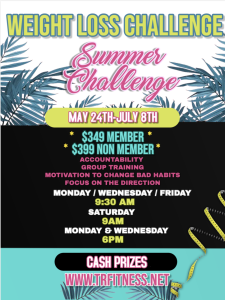 Testimonials...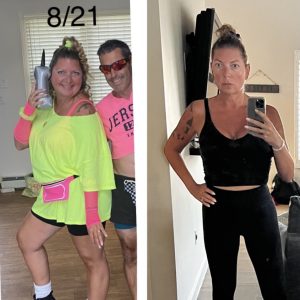 From the time I passed 40 years old, I gained 10 pounds a year and became a sick, bloated and lethargic 200 pound woman.
I felt tired and disinterested most of the time. My high stress job and busy family life left me no time and energy to help my family, my coworkers or myself! I really knew it was time to act when I couldn't even get up out of the snow while trying to snow board with my family. I knew right then, I couldn't even plan my wedding to my dream man and enjoy the simplest of great pleasures associated with eh most fun activities with my family and husband to be.
Wearing a wedding dress and thinking of posing for pictures saddened me. I decided to make some important changes to my to my life to help myself and the people I love.
I knew I needed to lose weight and improve my health. I joined the Weight Loss Challenge and I have consistently lost weight and feel amazing. Now that I have placed my own health as a priority, I have lost weight and better help the people I love!
Time to plan my wedding! PS: Thank you Christine and TR Fitness!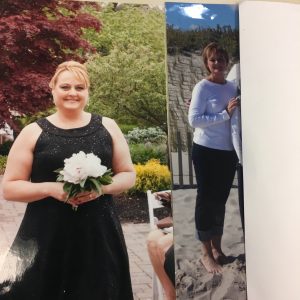 "I have tried every weight loss program and fad with no success. Through this program I have lost 5olbs and have learned so much about myself! The trainers and people that I've met were so nice and it was so much fun!"
"I signed up for WLC because I knew that I needed to lose weight and wanted to get healthy. I thought it would keep me more accountable to have a trainer who expected me to show up and work hard. Fast forward 8 weeks. I have gotten so much more out of this experience than I expected. I discovered I could do things, I didn't know I could. the creative workouts pushed me to feel stronger, happier and healthier. I've lost almost 10 lbs! I could've come to classes and workout out on my own. In fact, in the beginning I felt guilty for spending extra money on this experience; but I learned how to work out and eat healthier - you can't do that just by taking classes. I would encourage anyone who is thinking about trying it - just do it! Your body will thank you."