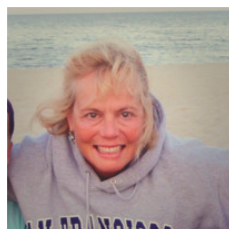 Johanna McCauley
Whenever I walk into Toms River Fitness, I breathe a sigh of relief because I know I am here to
work out but more importantly, I know I have a place that doesn't pass judgement and
everyone is here for their own specific purpose. There are few external places where people
can feel at home and still gather communally. What does it take to create such a safe and
comfortable environment? It has to be the people who work to protect such a welcoming
atmosphere and the people who frequent it and leave their positive energy.
It's hard to believe a local business has done this for the last 41 years and continues to work
hard at preserving it. Toms River Fitness has meant many things to many people. Whether it's
the pure joy of escape, the importance of exercise, the new knowledge of healthy living
strategies or the comradery and friendships grown over the years, all drawing us to this place
for self-preservation. Research tells us that exercise, especially group exercise has so many
more benefits than just the physical outcomes. It helps us cope with stress and anxiety; it
lessens depression and it creates an overall psychological well-being. But most of you know this
already because you experience it here.
What some of you may not know are the individuals who come here each day just like yourself.
I am always so taken by the array of people who grace this place. It usually starts from an act of
kindness. Helping someone setup a spin bike…handing someone a towel… holding doors…
saving lap lanes…and then a "Good morning!" turns into a genuine "How are you feeling
today?" And so it begins…we learn about each other when that person wants to share a
snippet of their story. If you're lucky, they will tell you a bit more.
I'm inquisitive by nature, so I will ask questions, mainly because I am fascinated by so many of
these kind souls. I had this crazy idea that maybe some might like to share their stories with
more of us. Not to brag or philosophize but to tell us who they are and learn their story. Some
of them have experiences that are noteworthy and brave, heart breaking and sad. There are so
many surprises. I think you will experience some of the joys and hardships these people lived
through with such grace and determination. You will see another definition of true strength.
Hopefully, these stories will affect and move us to recognize our similarities and likenesses.
Maya Angelou said, "The human heart is the link that joins us together, it tells us that we are all
more alike than we are unalike." Maybe you will want to participate in sharing your story.
This corner has been created to find out more about each of us. We were drawn here for a
common good. And these stories are the celebration of this goodness.
Hope you enjoy!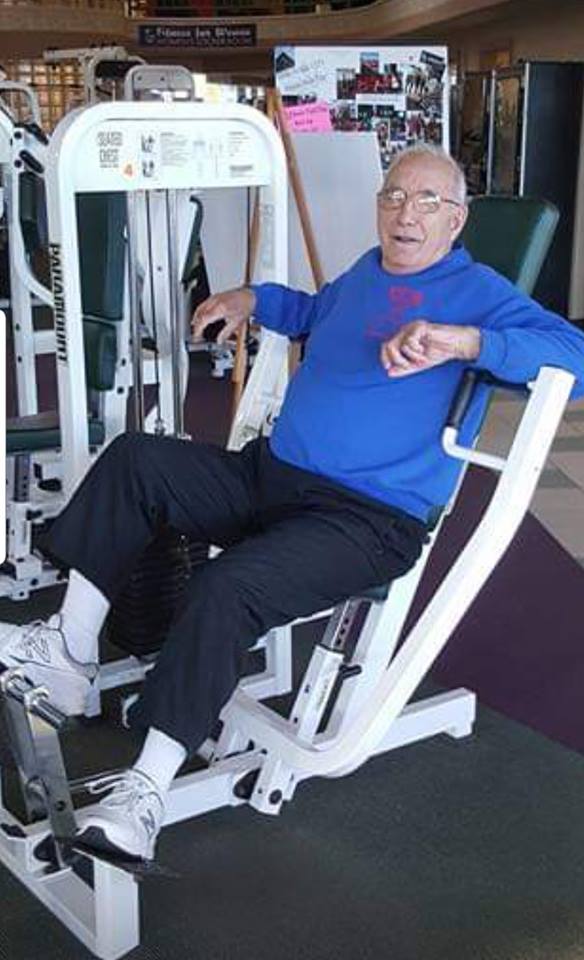 LOU TARANTO 
COUCH CREW MEMBER
This story is being told by a group of devoted truehearted members of TR Fitness as they remember their very good friend and compatriot, Lou Taranto. I hope I can honor Lou, with his story, but also honor this group of friends because they were willing to share their insights and help me paint a picture of this gentleman, who was admired by so many. As I sit among this select group, they begin to tell their tales of their travelling escapades, birthday breakfasts and coffee discussions humbling themselves while honoring their friend. Marisa Curran, Dan Libonati, Chester Coddington and Ed Gandolfi all share one major thing in common, their love for this very special man.
At their morning meetings, they would take their places on the couch or around the table near the coffee counter at TR Fitness, staggering times of workouts before or after their coffee.  Lou would always work out before he met with the gang. His competitive nature made this a daily routine, even when he had chemo treatments because he didn't want to give in to it. When someone was complaining about an ache or pain, he would tell them to deal with it! To Lou, weakness was not acceptable. He always believed in giving it his best.
Sometimes, others skipped the workouts,  but never the daily rituals or a chance to kibitz with each other. Their camaraderie was inspiring but oh, so funny.  They liked to banter and kid each other where it became contagious. Sometimes they did it for show. Eddie Gandolfi tells how they would go back and forth busting on each other in the locker room.  Lou had to have locker #25 so Eddie took #27. Lou would make fun of Eddie, but Eddie gave it right back, all in good fun and used it to entertain the locker room audience. This jocularity kept them all in check.  Sports was a big topic at the coffee sessions. Lou and Chester were big Yankee fans, while Eddie cheered for the Mets. So that was another ribbing session. Never mean or nasty, always amusing, in good fun with challenging wit at the forefront.    
This gathering started lightheartedly, as they told funny stories about their antics inside and outside the gym. Birthday breakfast celebrations at the Bandwagon or the celebrant's choice were ongoing throughout the year.  The group planned days trips within the tri- state area, places like: the Yogi Berra Museum, Philadelphia's Sugar Hill, a Yankee Game, even Ruts Hut for hot dogs! ( It was unanimous, they all thought the hot dogs were terrible!)  They took numerous trips to Las Vegas where Lou would meet up with his son Glen, who lived in California and have a chance to spend time with him. Then, there were the weekly jaunts to Atlantic City. Sometimes they even took a limo to AC with Dan Libonati at the helm. Lou liked the slots. Some of the other guys liked to play cards, but they would meet up after gambling and have a dinner to cap off their day.  During the holidays, the gentlemen would bring their better halves and share in a holiday dinner. They enjoyed each other's company and as they spoke the loss of Lou became more evident.
Marisa, the lone lady in the group, said that Lou was her best male friend who she looked up to. "Lou cared about all of us.  He would call to check on us if we weren't at the gym for a few days." When I asked if he was tech savvy, Marisa laughed the loudest. Lou would ask her to help him delete texts from his flip phone. When his son bought him a new phone, (after Lou decided to go to AC by himself,without telling anyone) and caused a bit of panic, Marisa was the one who taught him how to use it.
After serving in the Marine Corps, Lou joined the State Troopers in 1958. He worked his way up the ladder from patrolman, to detective, to major and then to lieutenant colonel and instituted many of the divisions within the department that exist today. He received many accolades for his service. There were some stories that Lou shared with Bob Barnes from his early days on the job.  Once, Lou got shot in the line of duty, along with two other officers. When they were called down to headquarters, they thought it might be for a commendation but in actuality it was a stern warning, "Don't let this happen again or you might be fired!" Not needing to be told twice, Lou continued his police career and for all his years of outstanding service was awarded one of the highest honors bestowed upon a State Trooper.    
Yet, beneath his proud exterior existed one of the kindest guys you could ever meet.  Bob Barnes tells another story about Lou when Bob was just starting out as a rookie trooper. Rookies had to bare the brunt of the more seasoned officers, where they ignored you or wanted you to figure it out on your own.  But Lou was different. He would help you and teach you to do things better or easier, and he did for anyone on the job. Even when the schedule was 84 hours a week, Lou lived for the job. Chester Coddington told a story when they took a field trip to the State Troopers Museum and Lou was showing the guys around, Chester asked the on duty officer if he knew who Lou was.  When Chester told him, the young officer came to attention. But Lou felt a bit awkward over it. That's the kind of guy he was. As the first Lieutenant Colonel in the history of the New Jersey State Troopers, Lou loved his job and excelled in it. Retirement didn't sit well with him, so he took on a police related position as Public Safety Director in numerous New Jersey towns after his 31 years on the State Police. Still, his passion for his profession was handed down to his son, Lou, a retired State trooper and his grandson, Lou, a Toms River police officer.  Both named after a man they were so very proud of.
Lou he had an uncanny memory, read voraciously, mostly military biographies and histories, and was extremely smart. Dan told stories where Lou could remember dates, cases, specific details regardless of the time span. Dan tried to convince him to write a book.  But Lou was actually helping another trooper who was writing a book, supplying details and data that Lou had no problem recollecting. Dan said during their lunches or summer weekend get togethers he would tell stories with such vivid descriptions his listeners were captivated by them; he told it with wit and wisdom that gripped one's attention .  
In fact, Dan knew Lou many years ago growing up in Howell where Lou was stationed at the barracks. There was a place called Pete's Diner that had a pinball machine where all the kids in the neighborhood would go and hang out. Lou's  job was to chase these kids, including Dan, away from the diner because it was bothering the customers. Now, years later, Lou and Dan became best buds from meeting in the gym. Then they realized they lived a few blocks from each other in Holiday City. The longer we live the smaller our world gets.        
Lou had a few quirks.  He was a change man. Empty cigar boxes filled with coins.  When the group was explaining, I said a coin collector? They started to laugh!  No just change. One day, Lou had Dan take him to the bank to cash in some of his change. "He comes out with a heavy canvas bag ready to head to the TD Bank coin machine.  Sure enough he had $700 worth of change!" The guys knew how he was always looking down for change that one of the kidders, Domenic, decided to walk ahead and leave a trail of coins.  Unbeknownst to Lou, he found the discarded coins and told the guys how lucky he was that day! They all just laughed!
Lou was also meticulous in his appearance and fastidious with his car.  He drove a Chrysler 300 and when one of the guys saw a similar car in the parking lot, they knew it couldn't Lou's because it wasn't pristine enough.   Lou liked his cigars and would smoke out in his man cave garage while puffing a De Nobili. Dan remembers riding his bike over to see him watching television with cigar in hand.  When Lou passed, Dan asked Lou's wife, Elizabeth, if he could have something to remember him by. She gave Dan Lou's pen knife, which he always carried, and a cashed check made out to Dan signed by Lou from one of their many trips. "He was my best friend and I looked up to him."
Their care and concern for each other is enviable.  Here such affable and good natured people express their genuine sincerity for Lou with candor and ease and of course, sprinkled humor.  They were honored to be his friend. Lou belonged to many groups (Retired Troopers, American Legion), but they felt privileged to be the ones he wanted to be with, making it all the more sweet.  But to be honest, Lou was the lucky one to have these compadres as his everyday, without a doubt, wonderful people in his life. This type of friendship is something so treasurable, it's hard to classify because it was such an active element in their lives. There friendship was easy and natural, making it harder to live without. His spot on the couch stays empty but these people will hold their memories of Lou Taranto close to their hearts.
Chester's wife, Sue told me how hard Lou'd death has been on her husband.  When I asked the group if they wanted to say anything for the good of the order, Chester  added, "I knew him the longest, over 35 years, and he was my best friend. I really miss him."    
For me, it's wrought with emotions. I didn't know Lou but I feel like I did after this conversation. Their kind words and willingness to share their stories symbolize another reason for coming to our gym. We can only hope to have such friendships in life and treasure them because they feel so rare.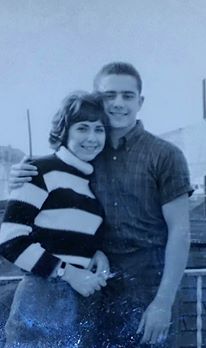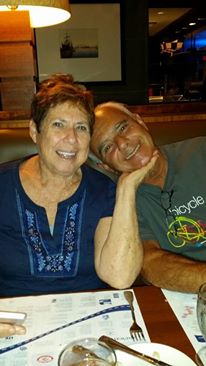 Ray and Shelley Lynnworth
Who would have thought two young Brooklynites would have changed the health and fitness
community of Toms River, New Jersey some forty years ago. Call it fate, smarts, vision or courage their
story is one of love, chance, hopes and dreams. I'm talking about Ray and Shelley Lynnworth,
proprietors of TR Fitness and Aquatics. Their story is one that exemplifies hard work and passion
coupled with perseverance and resiliency. They have loved their job from the get go. I'd like to tell you
about how it all began at a Halloween party almost 60 years ago.
Ray grew up in Brooklyn and went to Brooklyn Tech High School. Shelley Solomon returned to Brooklyn
after spending her elementary school years in Toms River, where she would sell lilacs from her family's
chicken farm. She returned to her birthplace; her father had passed away and her mother and brother
decided to open up a donut business in the city. Shelley was extremely shy. She remembers a time
when she called the Toms River Community Movie Theater to check on viewing times and she became
so flustered she couldn't get words out.
But, fate was destined for these youngsters. Meeting at a Halloween party, Ray asked Shelley if she
would go to another party; he needed a date to attend. Shelley didn't know this at the time, but later
found out his ulterior motive. After these dates, she was invited to Ray's home to meet his family.
Shelley was so taken by Ray's father's creative gadgets, (an electric hand dryer), she thought he was
wealthy. When returning home, she exclaimed, "Mom, he's really rich!'' Little did she know that on her
second visit, when she made it into the living room, she saw beach chairs as furniture, and then she
realized her faux pas. But that didn't stop the relationship from blooming. Each headed off to college.
Ray attended NYU for electrical engineering; Shelley attended Brooklyn College for teaching. Ray's
mother saw their relationship maturing and also objected to Ray's slacking off in studying. She thought it
would be best for them to get married so they could focus on themselves and their educations.
Sometimes mothers know best! So they were married on September 7, 1963.
After graduation, Shelly taught in Rockaway, New Jersey, while Ray worked as an electrical engineer at
the Singer Company. They moved to Parsippany, New Jersey. During visits to Shelley's sister's family in
Toms River, they both liked the family life style they saw. Shelley was pregnant with Jill when they made
the move to Toms River. Ray worked at his brother-in-law's business, Good Friend Electric. Then Randy
was born two years later.
As they entered their thirties, both were looking for something to call their own. They were active in the
TR community, specifically the YMCA. Ray was a successful gymnast in high school so he took these skills
to the YMCA, where he and Shelly became well known in the gymnastic programs showcasing gymnastic
exhibitions in Ocean County. In fact, Ray was the Vice President at the YMCA.
Never afraid to enter into an unknown arena, Ray and Shelley researched and studied different
businesses. After playing racquetball at Kangaroo Courts in Brick, Ray thought this might be the
business venture for him and Shelly. The sport was fun and physical and had new possibilities. Ray's dad
and brother were avid handball players so he knew the fascination and fast pace with this type of sport.
It was December 1978 when they opened their doors to
Toms River. Members became friends and friends became second family. So many waking hours were
spent at the front desk or at Ray's desk. Shelly remembers Ray complaining that she needed to make
the kids' lunches somewhere else because she kept getting mustard on his important paperwork! It was
their energy and effort that created an atmosphere where people wanted to come thru their doors.
Each day brought new challenges for them but they were ever so grateful for this chance.
After twenty years, two children, two desks and two cars, Ray said the last two make for a happy
marriage, in 1982, life threw them a devastating curve ball. Randy, age 14 was diagnosed with a brain
tumor. He was taken to Sloan Kettering where surgery removed the tumor but put Randy in a coma.
Both remember those three months not knowing or thinking about the business. "That's when you
know you have good people helping you when you need it most." When they brought Randy home,
after surgery in a coma, he was unable to speak or move much. Then one day when Shelly was lying
next to him, she heard him say, "I'm hungry." She was awe struck. Frantic to tell someone she started
screaming, "Where's Jill? I have to tell Jill…" Randy said, "She's over Laura's …shocked, Shelly realized he
heard his sister tell his mom before she left. Randy's disabilities kept him in a wheelchair but they didn't
hold him down. He was a thinker… He had dreams of opening a video store…he kept involved with his
buds at school… and at their small camp… and he attended school for the next four years until the
cancer came back. Randy passed in April 1986. He was 18 years old.
"No matter what you might expect it to be, it will come out differently, it's not what you think." Ray
uttered these words while Shelly nodded in agreement. It took both of them time to function and gain
their footing again, but you are never the same after the death of a child. Randy lives on in their hearts
and through Team Randy. This endeavor started when Ray and Shelly hired a young strapping fellow to
do activities with Randy and his teenage friends. At first, they thought it might be for wheelchair bound
kids, but Randy wanted it for all kids. Team Randy became a New Jersey nonprofit corporation and
serves the community to this day as a travel summer camp for challenged teens.
Something was happening to the racquetball craze. Although Nielson ratings counted 12 million
participants in 1982 the number of participants in 1984 declined by 2.6 million and continued to
descend. Ray and Shelly knew they had to be creative, so they started introducing aerobic classes, spin
instruction, Nautilus and Wally ball and basketball in the courts. But by 1997, they knew they had to
change the venue to survive in a tough competitive industry. At that time Mandy's Clothing Store
became available. Here they were putting it all on the line, again. Smart and gutsy, resourceful Ray
found a way to pull this gamble off. "If it weren't for American Express checks… I used those checks until
we opened in January. Because we were so well received, I knew we could pay the employees and make
all of this work." Work never scared them. "I guess I always knew we could always work. We started at
eighteen so it was nothing new to us."
Sadly, Shelley remembers a racquetball member telling her, "I hope you fail." That devastating
comment made her realize just what people felt when they closed the doors to the old building. But
they needed to make a living and sure enough, Toms River Fitness came into play. Their willingness to
attempt enterprises with such insight goes beyond many of us. The club now has over 100 classes, over
100 employees, 2 beautiful pools, saunas, and most importantly all the members all under the same
roof. Creative and innovative thinking has kept it all alive. Knowing the trends in the health and fitness
fields have made them one of the premiere exercise spots for all of us.
Curious about their hiring techniques, I asked them what they look for in when hiring staff. Shelley says
kindness. She tells me she hired Cathy Morris because she had the best smile. Cathy is one of the club's
longest employees. Ray mentions Sue Minnitti, office worker, massage therapist and spin instructor.
"When she was a teenager, her dad was our milkman and asked if I could give her a job." How many
years ago was that? Sue still has one of the best smiles when she greets us at the front desk. When I
mention Jill, Ray beams; Shelly smiles. He talks about her sitting next to him shoulder to shoulder in the
office. Their mutual love and respect are apparent.
What are the key ingredients here? "Make people feel welcomed… show kindness… be able to listen…
exhibit an openness and have a grateful attitude… be nonjudgmental… interact with those who might be
alone." Shelly specifically shows concerns when she speaks about many of the seniors who are club
members and dear friends. "The friendships here at "Fitness" are the best. When one of our ladies is
not here for a few days, a friend or I will check on her. We are a community who gets healthy together
and are there for each other." Just take a look at the coffee area. Each hour shows the friendships and
great conversations that take place. You can always see Shelley listening in at the tables and adding her
words of kindness flavored with a bit of wisdom. A natural progression takes place here.
So their story continues every time one of them walks through the door. Many of you know them
dearly and some recognize them as acquaintances, but whatever the relation you have with these two,
you will find them genuine to the core. I asked them what might surprise us about them, here's what
they said, …One drinks the other doesn't, one windsurfs and makes a fabulous pizza! The other is a
master soup chef and gardener. Both are independent thinkers… but one thing that brings them their
greatest joy is the love for their grandson, Brian!