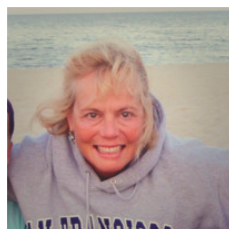 Johanna McCauley
Whenever I walk into Toms River Fitness, I breathe a sigh of relief because I know I am here to
work out but more importantly, I know I have a place that doesn't pass judgement and
everyone is here for their own specific purpose. There are few external places where people
can feel at home and still gather communally. What does it take to create such a safe and
comfortable environment? It has to be the people who work to protect such a welcoming
atmosphere and the people who frequent it and leave their positive energy.
It's hard to believe a local business has done this for the last 41 years and continues to work
hard at preserving it. Toms River Fitness has meant many things to many people. Whether it's
the pure joy of escape, the importance of exercise, the new knowledge of healthy living
strategies or the comradery and friendships grown over the years, all drawing us to this place
for self-preservation. Research tells us that exercise, especially group exercise has so many
more benefits than just the physical outcomes. It helps us cope with stress and anxiety; it
lessens depression and it creates an overall psychological well-being. But most of you know this
already because you experience it here.
What some of you may not know are the individuals who come here each day just like yourself.
I am always so taken by the array of people who grace this place. It usually starts from an act of
kindness. Helping someone setup a spin bike…handing someone a towel… holding doors…
saving lap lanes…and then a "Good morning!" turns into a genuine "How are you feeling
today?" And so it begins…we learn about each other when that person wants to share a
snippet of their story. If you're lucky, they will tell you a bit more.
I'm inquisitive by nature, so I will ask questions, mainly because I am fascinated by so many of
these kind souls. I had this crazy idea that maybe some might like to share their stories with
more of us. Not to brag or philosophize but to tell us who they are and learn their story. Some
of them have experiences that are noteworthy and brave, heart breaking and sad. There are so
many surprises. I think you will experience some of the joys and hardships these people lived
through with such grace and determination. You will see another definition of true strength.
Hopefully, these stories will affect and move us to recognize our similarities and likenesses.
Maya Angelou said, "The human heart is the link that joins us together, it tells us that we are all
more alike than we are unalike." Maybe you will want to participate in sharing your story.
This corner has been created to find out more about each of us. We were drawn here for a
common good. And these stories are the celebration of this goodness.
Hope you enjoy!