S.L.T Strength Lengthen and Tone with Marci
A non-stop moving hybrid class that combines signature yoga moves, lengthening pilates moves with strength training elements using light weights, gliders and yoga blocks. Each class will have a dynamic playlist. Leave SLT feeling stretched, supple and sweaty. It's the perfect class for Type A personalities who can't seem to sit still and relax in a traditional Yoga class. Also perfect for fitness junkies who want to throw some yoga into the mix without Sanskrit, om-ing, yoga skeptics or yogis looking for a power hour.
Bring plenty of water, towel & a yoga mat.
*SUNDAYS 8AM, drop in $12!*
Train & Transform Boot Camp with Marci
Take the workout OUTSIDE! These workouts take place beyond the four walls of the gym. Marci has an arsenal of equipment that she travels with and sets up so the workout can include athletic drills, fitness circuits, running, hopping, leaping, stair climbing and more. No two workouts are ever the same. Participants will be notified a day or two ahead as to where to meet for the workout. Locations are decided with the weather in mind. Join the camaraderie, motivation and fun. All men, women and fitness levels welcome. Text Marci for more details or info @732-773-0700.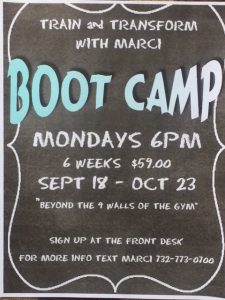 ***LABOR DAY CIRCUIT WORKOUT WITH MARCI***
Monday, September 4th 2017
8am @ Ortley Beach
$10, Bring towel & water! We will meet at Coolidge Ave. on the boardwalk. Sign up at the Front Desk!